Amy Kuscsik has been practicing yoga for 15 years and teaching for the last 9 years. She particularly enjoys restorative and beginner-based yoga with an adaptive and trauma informed approach.  In 2010, the Lord brought yoga to the forefront of Amy's life and that is when she began to embrace it as a form of personal worship. Amy is certified through YogaFaith as the ministry was a divine match to her heart's longing to be an ambassador for Christ to people in need of healing.  Amy and her husband Andy and reside in rural Ohio with three sporty teen children. When I'm not teaching yoga or at a soccer or basketball game I enjoy making jewelry and running. I'm honored to be part of a supportive group alongside like-minded brothers and sisters in the Christian Yoga Association. I am here to serve you. If we haven't already connected, I work behind the scenes managing administrative emails, inquiries, memberships, social media and more for the CYA. You can reach me at hello@ChristianYogaAssociation.org.
JODY THOMAE has been involved in worship arts ministries since 1997 and is the author of God's Creative Gift: Unleashing the Artist in You and The Creator's Healing Power—Restoring the Broken to Beautiful, both books in the Bible Studies to Nurture the Creative Spirit Within. Jody has also taught yoga for over 15 years and leads gently challenging classes that are ROOTED (grounded in form, alignment, intention and inclusion) and REACHING (stretching towards personal goals and God-given dreams, destiny and design). She is registered as a Master YogaFaith Trainer at the 500 hour level, Trauma Sensitive YF Trainer, Certified Yoga Therapist, C-IAYT and a Certified Silver Sneakers Yoga Instructor. When not teaching at one of the longest running YF classes held at Ashland University in Ohio where she resides, you can find her waterskiing and hanging with her husband and two wonderful children.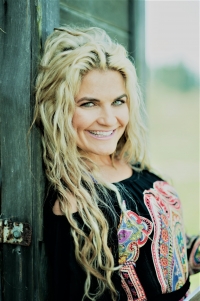 Called the Yoga Pastor, Michelle Thielen is a speaker, author of Stretching Your Faith and traveling yogi who has been teaching somatic movement through dance and yoga for over 20 years. A student of Peter Levine's Somatic Experience (SE), and Eric Walrabenstein's therapy for psychological wounds, Michelle is passionate about helping the world heal from trauma to live a life of purpose.

As a Trauma Sensitive Yoga Trainer, Michelle has been instrumental in aiding with the restoration of those who suffer from trauma, intense anxiety or depression into healing and freedom. She travels around the world aiding in the rescue efforts of human traffick victims as well as raising awareness about the epidemic. She is a certified yoga therapist, C-IAYT, with the International Association of Yoga Therapists, IAYT, holds certifications with the American Council of Exercise, founder of YogaFaith and founded the Christian Yoga Association in 2018, as a means to build a bridge between faith-based yoga practitioners and educators. She is extremely proud of the work of CYA and to be a part of it.

When not teaching and traveling you can find her hanging out with her husband Derek and 3 furry kids in the Pacific Northwest.
Nick Magnuson has been involved in yoga since 2016. But not how you might expect. After helping his friend Kristen Campbell start a Christian yoga studio, he had the idea to create online yoga resources and take their offerings to the web. They closed the studio when Kristen moved, but soon after launched ChristiansDoYoga.com. Now Nick and Kristen run Christians Do Yoga together, providing resources for both students and teachers.

Nick doesn't teach yoga…although he has filmed and photographed enough yoga classes that he could probably teach a class or two…but he has expertise and experience in business, the online/technical world, and digital content (video/audio/photography). He loves to use his gifts to help Christian yoga teachers reach more people, expand their influence, and grow their business. He also runs a video production company based in Tulsa Oklahoma.

When he's not working Nick likes to mountain bike, play music (he has played drums in church since he was 8, and also plays guitar and sings), and hangs out with his wife and 2 little boys.
Keleah came to yoga through two passions – cheerleading and gymnastics and has been sharing a passion for the Lord through fitness training for over half her life, beginning in 1991. She had always experienced movement as an expression of her soul, but in yoga, she found an even deeper connection to the God she knew and loved. She found home – a place of being, not doing.

 

This place of being ultimately led her to the creation of

Abundant Yoga

. Born of a vision from the Lord to "be yoga", Abundant Yoga offers a unique format of classes with movement that encourages individuals to "Be Still", "Be Gentle", and "Be Powerful". From virtual classes, to in-person retreats to teacher training, providing space for movement, stillness, worship, prayer, and meditation all in one, has remained foundational to Abundant Yoga's mission of sharing the gift of yoga and the heart of the gospel from a yoga mat.

Keleah has been teaching yoga since 2001 and is recognized by Yoga Alliance as an E-RYT200 certified yoga instructor, and Christian Yoga Association Master Trainer and School.

 

Keleah finds abundance outside of the yoga ministry on the water. You will find her on the beach or boating with her husband, Mitch. They reside in Franklin, TN and have three children.