SHERRELL MOORE-TUCKER is an author, speaker, and trauma-informed wellness expert who specializes in holistic stress management.
Sherrell is the creator of MindBody FAITH. An approach to wellness that bridges the gap between science and faith while exploring holistic tools and techniques for health and healing. One of those tools is Faith & Flow Yoga. A yoga practice that teaches people how to use their faith, body, and breath to raise their level of consciousness, reconnect with God, and themselves on a deeper mental, spiritual, and physical level. She also created Sisters Who Meditate as an international movement designed to educate and support women who want to cultivate a spiritual practice and discipline utilizing Christian meditation and prayer to deepen their relationship with God.
JODY THOMAE has been involved in worship arts ministries since 1997 and is the author of God's Creative Gift: Unleashing the Artist in You and The Creator's Healing Power—Restoring the Broken to Beautiful, both books in the Bible Studies to Nurture the Creative Spirit Within. Jody has also taught yoga for over 15 years and leads gently challenging classes that are ROOTED (grounded in form, alignment, intention and inclusion) and REACHING (stretching towards personal goals and God-given dreams, destiny and design). She is registered as a Master YogaFaith Trainer at the 500 hour level, Trauma Sensitive YF Trainer, and a Certified Silver Sneakers Yoga Instructor. When not teaching at one of the longest running YF classes held at Ashland University in Ohio where she resides, you can find her waterskiing and hanging with her husband and two wonderful children.
Amy Kuscsik has been practicing yoga for 15 years and teaching for the last 9 years. She particularly enjoys restorative and beginner based yoga with an adaptive and trauma informed approach.  In 2010, the Lord brought yoga to the forefront of Amy's life and that is when she began to embrace it as a form of personal worship. Amy is certified through YogaFaith as the ministry was a divine match to her heart's longing to be an ambassador for Christ to people in need of healing.  Amy and her husband Andy and reside in rural Ohio with three sporty teen children. When I'm not teaching yoga or at a soccer or basketball game I enjoy making jewelry and running. I'm honored to be part of a supportive group alongside like-minded brothers and sisters in the Christian Yoga Association. I am here to serve you. If we haven't already connected, I work behind the scenes managing administrative emails, inquiries, memberships, social media and more for the CYA. You can reach me at hello@ChristianYogaAssociation.org.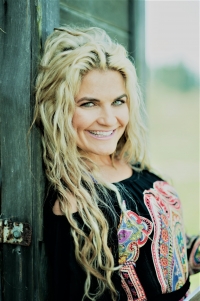 Called the Yoga Pastor, Michelle Thielen is a speaker, author of Stretching Your Faith and traveling yogi who has been teaching somatic movement through dance and yoga for over 20 years. A student of Peter Levine's Somatic Experience (SE), and Eric Walrabenstein's therapy for psychological wounds, Michelle is passionate about helping the world heal from trauma to live a life of purpose.

As a Trauma Sensitive Yoga Trainer, Michelle has been instrumental in aiding with the restoration of those who suffer from trauma, intense anxiety or depression into healing and freedom. She travels around the world aiding in the rescue efforts of human traffick victims as well as raising awareness about the epidemic. She is a certified yoga therapist, C-IAYT, with the International Association of Yoga Therapists, IAYT, holds certifications with the American Council of Exercise, founder of YogaFaith and founded the Christian Yoga Association in 2018, as a means to build a bridge between faith based yoga practitioners and educators. She is extremely proud of the work of CYA and to be a part of it.

When not teaching and traveling you can find her hanging out with her husband Derek and 3 furry kids in the Pacific Northwest.