Christian Yoga Association's Favorite Yoga Mats
by Michelle A. Thielen, Registered CYA Therapist, R-CYATH
One of the most frequently asked questions of yoga teachers is, "What is your favorite mat?" Because we often communicate with the greatest yogis in the world, we wanted to share their favorites directly with you. 
We took a poll among the Christian Yoga Association community, and here is what we found to be the favorites among our Christian yogis.
#1 Manduka Pro Series
Manduka Pro had the highest votes in our poll which may not come to a surprise to Manduka as their website states that their Pro series mats are the #1 recommended mat by teachers worldwide. The Manduka Pro Series seems to be the most versatile line of yoga mats, varying in color, size, weight, and thickness. There is something for everybody! 
For example, they come in different thicknesses such as: 
6mm (Pro 6mm) Ultra-dense cushioning for superior stability and joint protection. Lifetime Guarantee.

4.7mm (Pro 4.7mm) All the features of their legendary 6mm Pro Mat in a thinner, lighter 4.7mm thickness.

2.5mm (Pro 2.55mm) A foldable, lightweight, easy-to-pack-and-carry size of their Pro mat.
I myself am among the votes for Manduka with my all-time favorite mat, the 2.5mm Pro Mat (also known as Manduka EKO Superlite) as it's perfect for the traveling yogi. 
"It folds up well in my suitcase and is perfect for an ultra-light packer as I am – I've used it for years! The pros may be your cons. If you have knee issues or desire more cushion, or hold postures a long time, you'll need to place the mat on the carpet. The benefits far outweigh the thinness in my practice. If I need the cushion, I'll place it on an area rug in the studio."
Hear what other users in the Christian Yoga Association community had to say about the Manduka Pro Series:
"Very durable!" Allen Shearer

"I love the support and cushioning for my joints, mostly knees, when in tabletop or low lunges.  I also use my mat at times for barre class. My mat doesn't slide or cause me to slip or lose grip even when I'm sweating." Brandi Brelage

"It's the perfect blend of nonslip and supportive thickness. A friend of mine has been teaching with hers for 10 years and it's still like new. It is a little heavy, but worth it." Andrea Peck from Engage Align Surrender 

"It is thick, nonslip, and includes a lifetime guarantee." CYA Director Jody Thomae from Rooted & Reaching

"I've tried many mats but I prefer Manduka! I have a good grip here with dry hands, I mean the grip is not too hard so that I can move inside the postures – I love the colors – and with the Pro I have a very good cushioning for my knees – the pro lite is great to take with on the road. For me, Manduka is the best." G. Meylan

"Most Manduka mats have a lifetime warranty, but I don't think they need it. They seem to last through every form of abuse I put it through (except for dunking it in the ocean, which broke down the rubber)." Root2Rise Studio

"It's a nice thickness and extra-long!" Kassidy Yoga

"Folds up thin as I travel a lot, sticky but works for vinyasa flow as well (not too sticky). It holds up in Hot Yoga as well." Michelle Thielen, Founder of YogaFaith and CYA
Keleah Anderson, CYA Director adds:
"In the beginning, God created the heavens and the Earth….AND the Manduka Pro! As I fell deeper and deeper in love with the practice, my Savior, and ALL that happened on this 6 mm slice of heaven, I could never imagine parting with it.  That was 2001 and I still use this same mat today.  It has not become slippery, no foul smell, there is not any visible wear or tear, nor has it gotten any lighter either.  
#2 Jade Yoga, Voyager Mat
Jade was the #2 vote mat in our poll, with the Voyager being highly rated. The Jade Voyager Yoga Mat is perfect for the traveling yogi. The extra-thin and foldable mat packs easily in any yoga bag, weekender tote, or suitcase, so it can go with you everywhere and anywhere.
     [Shown to the right] Jade Yoga Voyager Natural Rubber Yoga Mat 68″ 1.5mm
We love Jade for many reasons including, made in the USA, amazing colors, but mostly their philanthropy. For every mat sold they donate 5% to autism causes and also plant a tree.                                              
Features

Travel yoga mat.

Ultra-thin and lightweight.

Folds or rolls for easy travel.

Natural rubber for durability and non-slip performance.

Contains no PVCs or other ozone-depleting substances.

Sustainable yoga mat with emissions-free manufacturing.

For every mat sold, Jade Yoga will plant a tree.

For every Saffron mat sold, Jade Yoga will donate




$5 to autism causes.
Taylor Moore, RYT 500, R-CYAMT, of Yoga Moore LLC, says, "This travel mat is THE BEST. It can fold to the size of a yoga block, which makes it perfect for my on-the-go life. It is eco-friendly and has the best grip I have experienced on a mat." 

Founder of Prodigy Yoga in Texarkana, Texas, Jessica McCarty, R-YFMT 500, reports, "Jade mats are eco-friendly and made from the sap of rubber tree plants and are made in the USA. They are sticky and help you to hold yoga postures better than any mat I have ever used."
Jessica loves Jade mats so much she sells them at Prodigy Yoga, which is a wonderful boutique providing the Texarkana community with Christ-centered yoga classes, resources, props, and athleisure wear.
See more information on Jade Yoga's Voyager mat and purchase here.
#3 Jade Yoga Harmony 
The Jade Yoga Harmony mat is Jade Yoga's most popular mat. At 3/16" thick, we believe this is a God-wink for the Christian Yogi. The Harmony mat provides great traction and cushion while still providing stability for standing poses. As with all their mats, you'll find sustainable products, made in the USA in amazing colors, and the same durability and philanthropic spirit that Jade Yoga has become known for. For each mat purchased, Jade Yoga promises:
$5 will be donated to ovarian cancer charities for every Teal mat purchased, $5 from each Saffron mat will be donated to Autism causes, and $5 will be donated to breast cancer charities for every pink mat purchased!  Saffron is available in April for Autism Awareness Month; Teal is available in September for Ovarian Cancer Awareness Month; and Pink is available in October for Breast Cancer Awareness Month.
The Jade Harmony Mat is the Mat that invites us to "Be the Change."
Jade is everything you want in a yoga mat – cool colors, incredible grip, great comfort and eco-friendly. Jade yoga harmony mats are made in a sustainable manner with natural rubber tapped from rubber trees, a renewable resource. Unlike other mats, Jade mats contain no PVC, EVA or other synthetic rubber, and are made in the United States in compliance with all US environmental, labor and consumer protection laws. And, through our partnership with Trees for the Future, JADE PLANTS A TREE FOR EVERY MAT SOLD – with over TWO MILLION trees planted so far (Jadeyoga, n.d.).
Registered CYA Therapist and Board Member, Amy Kuscsik says this about her Jade Yoga Harmony mat, "Sticky, long wearing, great color. I've had mine for 10 years!"
There is nothing like a great mat that sticks with you through the test of time, and with over two million trees planted at the time of this article, Jade Yoga mats are a favorite of ours!
See more information on the Jade Yoga Harmony mat and purchase here.

#4 Lululemon Mats
Yes, 'mats' is plural, as in all or any Lulu mat. Lululemon mats rank high on our poll and with professional testers in general, as we found through our research. 
One mat that seems to be a crowd favorite, in general, is their Reversible Mat. The popularity of this mat is most likely due to holding up in a wide variety of styles of yoga, in hot rooms as well as in powerful vinyasa classes, yet has the perfect cushion for slower-paced yin and restorative-like classes.
It's difficult to find a great mat for warm or hot classes. The Reversible Mat provides a polyurethane top layer that absorbs moisture to help you get a grip during sweaty practices. The natural rubber base gives you cushioning and a textured grip for low-sweat practices. If you're in the hot room often or spray cleaner on your mat without letting it dry, there is an antimicrobial additive that helps prevent mold and mildew on the mat. There is one cautionary to the reversible mat for those with latex allergies. Because it contains natural rubber it does contain latex. People with rubber or latex allergies should avoid this mat. 
Dimensions: 66cm x 180cm (26″ x 71″)

5mm (0.19″)

Weight: 2.38kg (5.24 lbs)
Yogi Barb, R-CYAMT, says this, "It's not too squishy, not too thin, and it's a good length." 
We second this, Yogi Barb!
There is an investment to be had with most Lululemon mats. The Reversible Mat is approximately $100 and weighs over 5 pounds.
See more information on each Lululemon mat and purchase here
#5 Liforme Yoga Mat
Liforme Yoga Mats are another favorite among yoga teachers. With their heavier weight and more expensive cost, we recommend these incredible high-quality mats to serious yoga students or teachers. Liforme is an incredible company with many rewards and benefits that are built into the investment of its products. 
One of the best things about Liforme mats is their built-in alignment system. 
Our unique AlignForMe system of practical alignment markers intelligently guides Yogis of all shapes and sizes. The mat is longer and wider giving Yogis the space they crave and with perfect balance between firm stability and comfortable cushioning (us.liforme.com).
Their mats are also PVC-free, biodegradable in 1 to 5 years in normal landfill conditions and made using high-quality non-toxic materials. They have spent 5 years developing the most planet-friendly yoga mat using high-quality materials. Their mat includes a unique three-layer patented construction that delivers an ultimate grip, maximum hygiene, and a quick drying top surface.
Another feature are the amazing colors and designs to choose from. However, there are a couple of drawbacks. One is the weight due to the size (185cm long x 68cm wide) of the natural rubber base, causing it to weigh almost 6 pounds. This may not sound like a lot of weight, but if you practice yoga often or travel, this isn't the ideal mat to transport. The other drawback is the higher cost. The least expensive mat at the time of this article is $140.00 (USD) and ranges up to $220.00. 
Liforme's mission is to provide the world with sustainable yoga mats while giving back to the earth, wildlife, and social justice causes around the world. For these, and many more reasons, we think this mat is worth every penny. 
See more information on each Liforme mat and purchase here.
#6 Oko Living Natural Herbal Yoga Rug
Ancient yogis did not practice yoga on what we now know as a 'yoga mat'. If you want to connect with your natural side or your 'yogi elders,' this is the "mat" for you. 
Many yoga practitioners boast that they will never go back to a standard yoga mat because their practice completely changed after using an Oko Yoga Rug. 
These are the world's most natural and ethically made yoga mats. Each mat is hand-loomed with Global Organic Textile Standard (GOTS) certified cotton with only plants used to dye each one. This is an ancient process that preserves the bioactive medicinal qualities of the plants used. Each rug comes with a free carrying case and best of all, a wildcrafted soap nut laundry detergent.
We love the wellness-promoting benefits found at okoliving.com:
Functional:
   – Sweat & Slip Resistant
   – Extra Supportive, 5mm thick, 6 ply cotton
   – Ultra Light 3.4 lbs, 72″L x 25″W
   – No Sliding with Natural Tree Rubber Coated Bottom
   – Lasts Longer than Typical Mats  
   – Naturally Antibacterial and Antimicrobial
   – Easy Machine Washable
"It's made from organic cotton, hand-woven, antimicrobial, antifungal, anti-slip; it's hand dyed using herbal naturally occurring dyes; it's a fair wage product that supports makers and their working environment ensuring it is safe; it is machine washable and comes with soap nuts natural detergent to cleanse the rug. This mat/rug heightens your senses during your practice and returns you to nature." Amy Ivey, R-YFT 200, R-CYAT
See here for more information on Oko mats, as well as Hugger Mugger's comparison here.
#7 IUGA Pro Non-Slip Yoga Mat
This mat is included because it's an overall great mat and affordable in the $60 range. The IUGA Pro Non-Slip Mat is the optimal combination of cushioning and stability. The 5mm cushion base delivers comfort while providing a grounded feel to keep you stable and support you sturdily in every posture. Their oversized (72" x 26") mat gives anybody room to move. 
The polyurethane top layer absorbs moisture for a strong grip and slip-free surface, ideal for warm or heated classes. The technology isn't just for heated classes, it's designed with absolute safety in mind, no matter what type of yoga you practice.
Because this mat is SGS Certified, it's unlike other natural rubber and PVC mats because there's no rubbery or toxic smell when you take it out of the package. The materials used keep odors at bay so that your mat always stays as fresh as the day you bought it. It's made of biodegradable and sustainably harvested tree rubber, therefore the mat is completely free from PVC, latex, and other materials. 
Practicing yoga is something we do for our mind, body, and spirit to achieve health and wellness. IUGA knows the importance of sustainability and that breathing unhealthy chemicals is hazardous to health and counterintuitive to practicing yoga. It's lightweight and durable. There's no flaking, stretching or falling apart. Their full-size mat weighs less than 2.5 pounds (half the weight of traditional rubber yoga mats). 
Honorable mentions:

Louella Gauthier, of Awesome Asanas with Louella and CYA member, mentions two of her favorites:
"I have two favorites actually. It depends on my needs at the time & type of class.  If my practice is balance-focused or a power flow, I prefer a thinner mat like Halfmoon. 

If it's more Classic Hatha, floor-focused I like a thicker, cushier mat. Lole works for me in this case. Softer on knees, hip bones. Just all over more comfortable with a thicker mat. I usually have 2-3 going at a time."
At 3.3 pounds and only $48, The Halfmoon Deluxe Studio Mat is 6mm thick for an extra soft, comfortable, and gentle practice surface. This mat is suitable for all styles of movement, on any floor surface, including hardwood and concrete. It's lightweight, easy to clean, and durable. This mat is perfect for daily use.
For more information on the Halfmoon Mat and to purchase it, see here.
The Lole Mat is only $24 and includes many benefits and is designed for a super grip whether it's 'super wet' or 'super dry.' It's eco-conscious, made of recyclable materials and both PVC and latex-free, and made with hygienic closed-cell construction.
Read more about the Lole Works mat here.
Just as there are many bodies in the world, there is a yoga mat to suit each one perfectly. Though these are our favorite and top-rated, we recommend doing your own due diligence before committing to a mat. Depending on your needs, you may need more than one. Remember, you'll most likely develop a relationship with this mat, choose your 'new friend' wisely.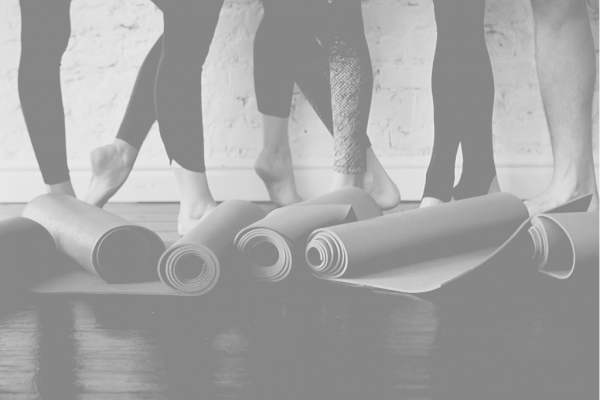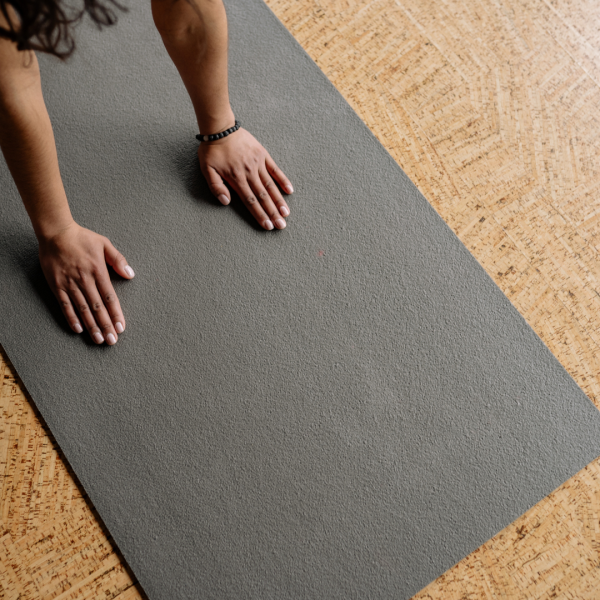 General Tips on Selecting a Mat
Determine Your Primary Use

: 

Static stretching and Hatha-based (isolated postures)

Vinyasa-Flowing

Restorative and Yin
Determine the Kind, Sticky or Smooth:
'Sticky' for static or Hatha-based

Smooth for Vinyasa or more flowing, dance-like movements
What Suits Your Practice Best, Thick Cushion or Thinner Thickness:
Thicker is best for slower, gentler, more static postures and movements – much more comfortable on joints, but not great for balancing postures – simply stepping off the mat for balancing postures is best.

Thinner is great for travel or the teacher that teaches at numerous locations, great for hot classes and balancing postures, or for those who desire to feel more grounded/closer to the earth.
Materials Used, Do You Have Allergies or Sensitivities?
Many mats give off a strong odor, research the mats materials if you have sensitivities or allergies.

Sustainability: Be kind to the earth when selecting a mat and know if the company gives back to the community or the environment if this is important to you.

Where is it made? Think about the efforts to get products to your home. Try to support your local community or small business whenever possible.
How Often Do You Practice: Daily-Monthly-Every Few Months?
How serious you are about practicing yoga should affect your investment in a mat. 

Once a day versus once every few months may help you determine the best type of investment for your needs and budget
If you're anything like me, choosing a mat is serious business, not quite as serious as selecting a mate, but similar, because you develop an intimate relationship over time. 
My Manduka Travel Mat has been to every continent alongside me. We have shared many laughs, and she's heard many stories as friends have parked their Sitz bones on her and shared their hearts. She's absorbed many tears of mine, dusty feet, the humidity and ice-cold temperatures of many regions-yes, we go way back. When I unpack her, be it in a gorgeous European studio, on a hot rooftop in Thailand, on a Cruise Ship, or on top of mountains such as the French Alps, I can almost hear her exhale just as I do. It's like we are smiling together, preparing our hearts and minds for all that God is about to do.
I praise God for sending me such a 'great friend,' she's been through so many things with me-the good, the bad, the ugly…I visit her throughout all of them-she is always there for me and though some days it's tough to visit, I have never regretted one second spent with her. 
Though I cannot ever imagine yoga without her, if we ever part ways, I'm going to find a beautiful frame for her to retire and rest in her final savasana.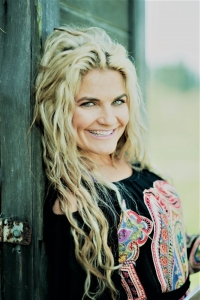 Stay in the Loop and be a Part of Future Polls
General Inquiry
Inquiry Form