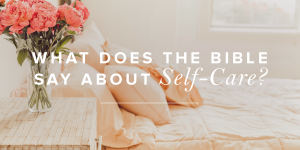 Burnout.  Fatigue. Lack of motivation. Loss of desire.  Accountability.  Transformation.  There are a lot of reasons TO practice self-care, or self-kindness.  There are also lot's of reason's why we DO NOT, as well.  But what does it look like and what does the Word say about caring for ourselves?
We all know self-care plays an important part in ensuring we're at the top of our health and wellness game. It's the key to preventing burnout, feeling balanced, and leading a fulfilling, purposeful, and productive life. But did you know there are actually 7 types of self-care you should embrace to feel your best in all areas of your life?  The seven types of self-care are:
Emotional self-care
Physical self-care
Mental self-care
Social self-care
Spiritual self-care
Practical self-care
Professional self-care
While the Bible doesn't directly address the idea of self-care, it does offer guidance for understanding the role of our physical and mental health.
Since the time of Moses in the Old Testament, God has provided instruction for the care of our bodies and minds. God values and commands rest (Ex. 34:21; Heb. 4:3-4) and care for our physical bodies (Ex. 22:26-27). Jesus himself prioritized rest. When faced with great crowds, Jesus "often withdrew to lonely places and prayed" (Luke 5:16). He cared that his disciples "had no leisure even to eat" and instructed them to "rest a while" (Mark 6:31).
We can also learn from Jesus' instruction to his disciples, recognizing that we cannot live self-sufficiently and must intentionally care for our physical and mental health.
Recognize your limitations, and practice good stewardship of your body and mind.
When we recognize our physical limitations, we acknowledge the supremacy of God and our dependence on him. Caring for our bodies and minds should not come from a pursuit of our own comfort and pleasure, but from an act of worship and submission to God. Paul reminds us in 1 Corinthians 6:19-20 that our bodies are not our own; they were bought with a price to be temples of the Holy Spirit. It is for this reason that we "present [our] bodies as a living sacrifice" (Rom. 12:1).
When we exercise and eat healthily, we act as good stewards of the gifts God has given us—our bodies and minds, "God's workmanship, created in Christ Jesus to good works" (Eph. 2:10).
Go to the source.
The self-care movement is grounded in the assumption that the power for healing and rest lies within, that we have the power to care for ourselves. The gospel counters that true power can only come from Christ. It offers a profound and eternal care that addresses even our deepest needs.
"Come to me, all who labor and are heavy laden, and I will give you rest. Take my yoke upon you, and learn from me, for I am gentle and lowly in heart, and you will find rest for your souls. For my yoke is easy, and my burden is light" (Matt. 11:28-30).
"Do not be anxious about anything, but in everything by prayer and supplication with thanksgiving let your requests be made known to God. And the peace of God, which surpasses all understanding, will guard your hearts and your minds in Christ Jesus" (Phil. 4:6-7).
All of the problems that the self-care movement attempts to address—unfulfillment, exhaustion from caring for others, lack of connection and purpose—are ultimately answered in the gospel. Jesus' death and resurrection won the victory over sin and death, so that we can experience his eternal life and peace. If we want true rest and energy, we must turn to the source of all peace and joy: Jesus Christ.
Turn to the gospel as a better, more sustainable motivation for life and work. 
Part of the underlying cause of burnout is a misunderstanding of the purpose of work.
If our goal and hope is simply to acquire wealth or "make a difference," we will be easily discouraged, unfulfilled, and exhausted.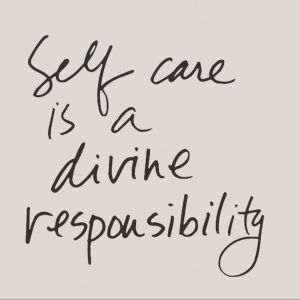 The gospel frees us from the burden of living and working for our own wealth, accomplishment, and reputation by declaring that our life and favor with God comes not from our own work but from God's saving grace through Jesus Christ. With this understanding, we can view life and work as a blessing instead of a curse (Eccl. 3:12-13, 5:19-20).
The Bible tells us that we were "created in Christ Jesus to good works" (Eph. 2:10). As the character and nature of God are revealed by his work (Psa. 8:3, 19:1-4), we reflect his character and nature by investing in our work. We live and work in response to God's grace, calling, and design for our lives, for his glory and the good of those around us (Eph. 4:28, 1 Cor. 10:31).
With this understanding, we can live and work wholeheartedly but with hope and confidence, trusting that "it is God who works in [us], both to will and to work for his good pleasure" (Phil. 2:13; Psa. 127:1-2).
Self-care isn't selfish.  It's required.  We ought to pour from a full cup.  Replenish daily. Be blessed!
Amy K, Master Trainer